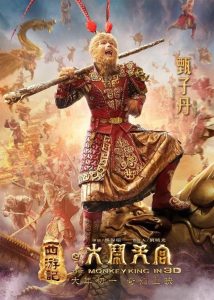 Martial arts action film posts a $1.8M first day on its way to a $50M opening on Chinese New Year weekend. Imax Theaters said Tuesday that it took in a single-day record $1.8 million in China on Friday, powered by the local hit "The Monkey King".
The martial arts action film's debut on 140 Imax screens came on the first day of the Chinese New Year, and topped the $1.5 million mark set by Disney and Marvel's "Iron Man 3" in 2013. It took in $4.5 million from Imax sites over its first three days. It was a huge overall weekend at the Mainland box office, and Chinese films were first and second worldwide.
The 3D "The Monkey King," starring Chow Yun Fat, Aaron Kwok and Donnie Yen, rolled up more than $51 million over the weekend. It was produced by Filmko Pictures and China Film Group, and directed by Pou-Soi Cheang.
Luigi worked as a scoring engineer for the score of the film, composed by Christopher Young.
source: TheWrap